SNS ColorWorms Screensaver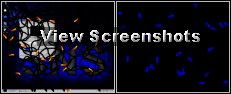 Version 1.4 - Released June 4, 2002 This screensaver shows colored worms crawling around on your screen. The head color of the worms fades to a tail color. You can make this screensaver look really good. Choose to either have the worms crawl on your screen or a colored background.
Starting with version 1.4, you can have the worms fade to/from nothing, if you so desire.
This screensaver now supports password protection.
Version 1.4 (Released June 4, 2002)
Worms can now fade from/to a transparent color, or basically nothing.
Possibly some other small fixes.
Version 1.3 (Released August 9, 2001)
All flickering was fixed.
Added error checking for the options window.
Worms can now be crawling on the screen (instead of a colored background) without leaving stains.
Version 1.2 (Released December 19, 2000)
The taskbar no longer shows up in front of the screensaver.
Some other minor fixes.
Version 1.1 (Released November 8, 2000)
Password protection works now.
There are now two defaults you can set the options to. You can choose which one when you click "Set to Default".
The screensaver no longer shows up minimized in Windows 2000.
Version 1.0 (Released September 23, 2000)